Well, I'd say that as a witch you are already daring to be different, so why not have hair that sets you apart from others? This post will show you the best blue hair, synthetic blue hair wigs and instant hair extensions a girl (or witch) can find!  Before dying your hair blue for real, why not try blue on for size to make sure it fits?
The magic of it all is they are easy to take care of, and you can shop right from the comfort of your own favorite chair.  Above, we have beautiful cool blue locks, which Cloud9Jewels on Etsy refers to as "mermaid hair." You can wash this wig with regular synthetic wig shampoo and style it with a hot iron. This one is $75, and so we love it!  Below, for $116 ExandOh has a lovely blonde and blue mixed wig!  That is their Cyber Monday price!
Of course there's always an element with changing your hair color that you could change your overall look from regular chick to burlesque sex kitten, add curls or dreads and if you are in that kind of mood these clip in black and blue curls are a great price at HeadRazor on Etsy.  They say, "To use simply Clip over a ponytail or bun, Our Hair falls can be worn by both Women & Men." You get two of these 'hair falls" in blue and black for $50.
Most good synthetic hair wigs will run you average of $50-$100 on Etsy from US stores.  I am all about supporting local US businesses, but if you are on a limited budget and want to experiment with many different looks in hopes of eventually dying your hair that color, you can check out ore LincoFashionWigs from China does offer low end pricing on their wigs and has various hues of blue.  Though I am not quite certain they are as good of quality as the ones you can find elsewhere, their average wig price is around $17 with a $3 US shipping cost. For twenty bucks, it's a great way to try out some fake hair to see before you actually dye your hair the color.
 Here are some selecctions. Above, we have  and below, dark blue halloween wig is 26 1/2 inches , both for only $16.99. If you want to try a mixed color wig, they range about $20-$30 still a fraction of what US sellers are asking.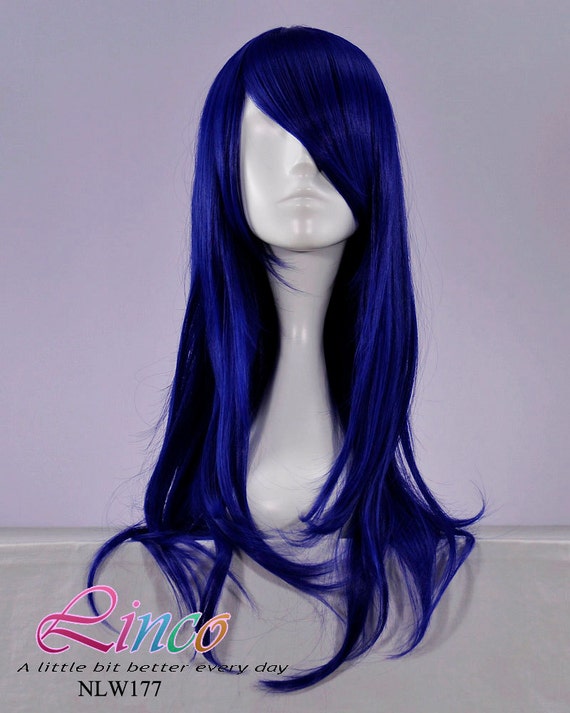 Now if you've done all that and are ready to take the next step , good luck finding a salon to dye your hair blue. You will have to find the hippest, trendiest place around and if you are going two colors expect to pay upwards of $300 in fashion salons.  The local CVS or Walgreens will sell dark blue hair dye, usually. Or, you could buy semi permanent coloring which allows you to have fun and change up your color often. For this we recommend checking out the colors at Lunar Tides Hair on etsy.  They have tons of blue hues, and of course, if you ask for our recommendation it would be none other than the color, "Sea Witch."