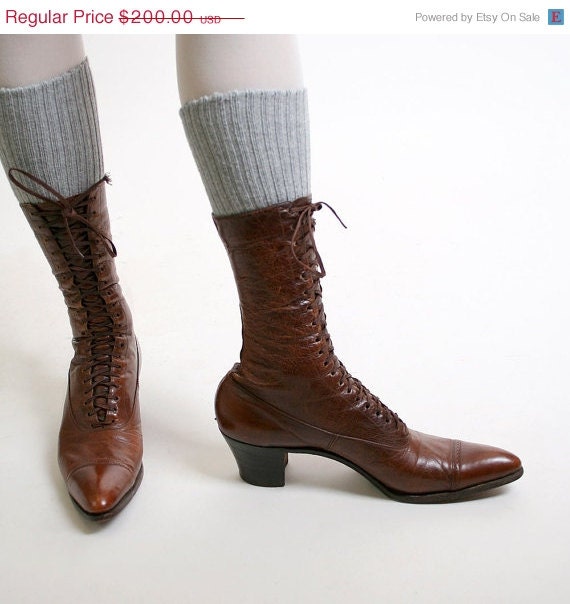 These boots from Zwzzy are size 6.5. Hello, I love you. Why can't you be my size?
I'm not sure what anyone says but these could be a great witch boots to adorn your shoe collection. I'm not so sure I'd wear these every day, as I think they would transform my feet into something unrecognizable, worse than a pile of rubbish. Not to mention us "witch folk" must stay incognito, right? So today you should put away your broom and check out these great finds from Etsy.   I'm thinking these vintage witch boots could be for special occasion only, or as that Halloween Costume (when you are really not in costume). I do hear that clicking them together all the time makes for great fun, but sorry, no trip to Oz.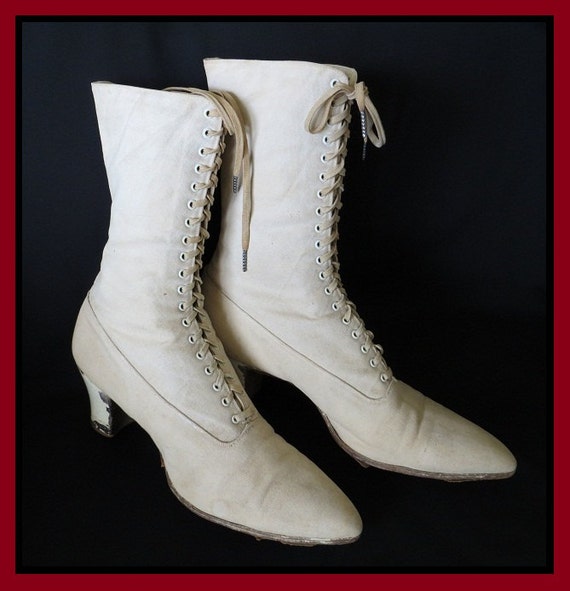 Wearing these bad boys would have gotten you hung in the town square, but today, anything goes. Find them at Classic Antique.
What are the Characteristics of a Witch Boot?
So just what is deemed worthy? Small heeled pointed toe boots that say "Don't mess with me or I'll turn you into a newt" that's what. Suffice to say most of the authentic Victorian era shoes resemble what appear to be witch boots, but were worn with daintier dress toting upper class genre, with parasols, certainly not the witch at the end of Eastwick boulevard . The problem, most sizes are small, so teeny in fact, that you would have to put your foot in a press for weeks to make them fit.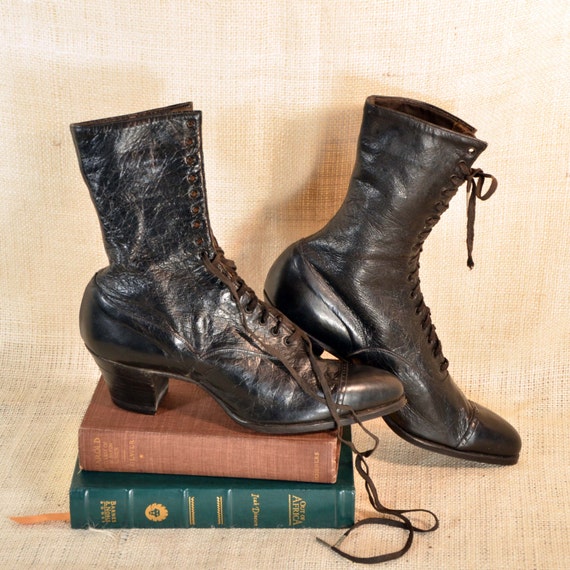 Measure your foot and snarf up these, priced at $100 at PapillionVintageShop
Many shoes were custom tailored back then or made for certain individuals of upper society aka "high society" by a shoemaker, so good luck finding proper sizes. Many times you will find stock codes in the inseam but no actual sizing.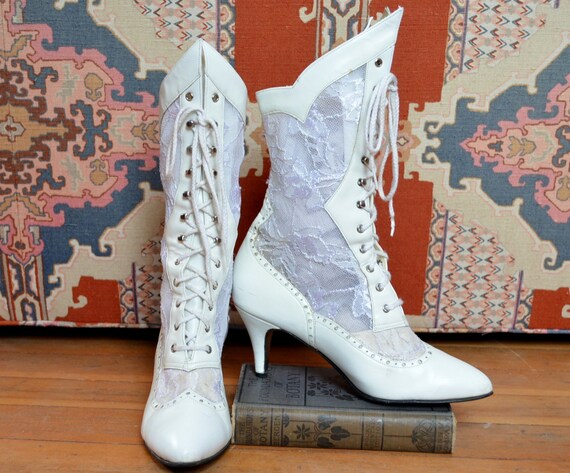 Madonna meets Stevie Nicks meets Cowgirl: Find these at RoslynVTGTradingCo on Etsy
A small resurface in the 80's because of what was her name , oh yeah, Stevie Nicks – (I know her name) means you should be able to find wider size and slightly lower priced This is the time shoes were starting to be made in China but seemed to hold up a bit better.  Let's not forget the short squatties that came out in teh Madonna craze. Yeah, I'm old enough to remember that. Today, adding something like this to your collection is well worth it. They  are getting harder to find in the proper sizes.